features
Message will be audible even if phone is on silent

Noise will continue until it is acknowledged

Message will appear over what ever is on the screen

Buying a bundle will allow you to gift app to people you want to send messages to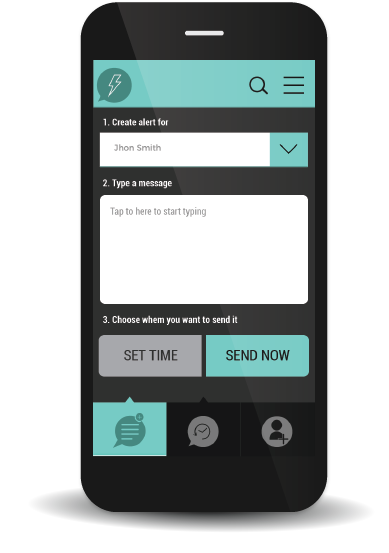 Send message straight away or select a future time

Ability to send from IOS to Android and vice-versa - once iOS version launches

No costs for sending messages

Confirmation shown to sender when message read
About Us
Hi, my name is Nick

This app was born out of personal frustrations with current messaging apps.

I have a son, Ben, who is at secondary school. When he started secondary school I bought him a smart phone so that I could contact him and he could contact me (obviously not while at school).

However, what I thought was a solution turned into a different problem. Because the phone was 'smart', he could play games and watch videos on it. So invariably he keeps his phone on silent so I wouldn't know. As such when I try and contact him he rarely answers, either because he doesn't hear the phone, or because (and I've finally had to admit this to myself) he may be embarrassed to speak to his Dad in front of his friends.

There are times that I need to get a message to him and he has no way of knowing that the call or text he ignores / doesn't see is important or not, and I have no way of knowing if he has seen it (and I mean really seen it and not just moved it so he can get on with his game). There are messaging apps that tell you when a message is delivered and seen, but the point is the message can be ignored or not seen because he didn't hear it.

So, RespondASAP®, is my solution to this problem.

During the development process I spoke to Ben and showed him the designs and thinking behind the app and he likes the idea because he will know that if he gets one of these messages then he will always hear it and will know its important. He will also have the ability to send me these messages - so there is a mutual understanding that using RespondASAP® is only for important things and not because he needs new batteries for his xbox controller.

When speaking to my friends they could all see other 'grown up' uses for the app because the majority of them kept their phones on silent most of the time too. Their suggestions ranged from changing your order when your friend is getting the drinks in at the bar, to finding your phone when you've misplaced it at home, to work situations when you need to get hold of work colleagues quickly.

However you want to use the app, I hope you enjoy it, use it responsibly and not while driving (you can tell I'm a parent) and can finally get hold of that person who always has their phone on silent.


faq
s
Can I only send ASAPs to people who have downloaded the app?

Yes, you must have either paid to add the person you want to send an ASAP to or they must have paid to add you and both of you need to have the RespondASAP® app downloaded.

How many people can I add to send ASAPs to?

As many as you like, there is no limit.

Does it cost me to send an ASAP?

There is no cost for the message itself, however it is sent and recieved using your data allowance or wifi.

Will the ASAP make a noise even if the recipients phone is on silent?

Yes, it will for Android what ever the noise setting, but for iOS it will require the app to be running in the background (that is a restriction of Apple I'm afraid). However, for iOS, even if the app isn't running we will continuously send alerts to the phone until it is responded to, they just can't make a noise

How can I stop an ASAP making a noise on my phone?

RespondASAP® is designed to be an system for sending important messages and not replace texting or other messaging apps, as such the arriving ASAP will always make a noise and interrupt what ever the phone is being used for.

Is my data secure?

Yes, all the personal information and the messages you type are encrypted.

Can I send an ASAP to a different country or time zone?

Yes you can. If the recipient is in a different time zone you need to base the arrival time of the ASAP on the time there. For example, if it is 1pm where you are and you are sending to someone who is 3 hours ahead and you want the ASAP to arrive immediately, you need to change the arrival time to 4pm  on your phone (the current time where the recipient is) before you send.
Terms & Conditions
1. Introduction
RespondASAP® respects your preferences concerning the treatment of Information that we may collect. This Privacy Policy explains what kind of information we collect, use, share and the security of your information in relation to the mobile application.
By installing RespondASAP® on your mobile device, entering into, connecting to, accessing and/or using the app, you agree to the terms and conditions set forth in this privacy policy, including the possible collection and processing of your information and you are consenting to the use of cookies and other tracking technologies on your device. Please note: if you or, as applicable, your legal guardian, disagree to any term provided herein, you may not install, access and/or use the app and you are requested to promptly erase them, and any part thereof, from your mobile device.
2. Access rights
Privacy-related permissions needed to allow the app to function
Send and receive SMS messages (to invite other users and receive invitations from others)
Access and read your contact list (so you can select which of your contacts you want to send invites to)
Use of your data allowance (the app is an online app and so needs internet access to work)
Access to your location, this is used to show the recipient's location to the sender.
3. Data We collect
We may collect non-personally identifiable information about users when they interact with the app. Non-personally identifiable information includes the usage patterns, device model, application installation information, operating system version, and other similar information.
We may use non-personal information for the following purposes:
For personalising the user experience. We may use user non-personal information to understand user characteristics and other trends associated with usage.
For service improvement. We may use non-personal information to provide, maintain, improve, improve our applications, services and websites, and develop new services.
For business development. We may use non-personal information to help promote and develop the market.
4. Personal information
We only collect limited personal information to allow the app to function - your name and your mobile number. User location is collected as part of the analytics (Google Analytics) on the app, however it is not linked to your name and number.
If you would like us to remove your information from our database then please email nick@respondasap.co.uk.
5. Safety
We attach great importance to the maintenance of user privacy. Please note that while the security measures we take to protect information are sound and all information is encrypted, it cannot be absolutely guaranteed that the information of the user will not be accessed and used without authorisation.
All data is stored within the Amazon Web Services cloud storage solution (https://aws.amazon.com/) on UK based servers.
6. Contact us
If you have any questions or comments regarding this Privacy Policy, please contact us at: nick@respondasap.co.uk
7. Policy changes
We reserve the right to make final interpretation of these Terms and update them at any time.